To maintain the plants and the whole garden in your property in attractive and healthy condition, use the services of our gardeners. They have the skills, competence, instruments and machines to provide proper cares for your flowers, bushes, trees, lawn and other plants. If you don't have the necessary time, skills and instruments to keep your garden blossoming, rely on our gardeners to do the necessary work. They will clean and clear your garden area, pressure wash the pavements and walkways and do the required corrections. Our gardeners work in and around Mortlake seven days in the week.
Gardening Services
Prices
Lawn Mowing

£

45

/h
Hedge Trimming

£

45

/h
Tree Pruning

on request
Qualified and Reliable Gardeners in Mortlake
You can use the professional help of our gardeners for:
Seeding new plants
Removing weeds from garden areas using eco-friendly detergents
Proper cares for the plants which you have in your garden
Trimming bushes, hedges and shaping tree crowns
Creating and implementation of various garden designs
Gathering wastes from the garden and throwing them away
Pressure washing paved areas and walkways
Fertilising the soil
Mowing and maintaining lawns
The gardeners in our company will check the condition of your plants and implement the innovations and improvements which need to be done.
Professional help of Mortlake Gardeners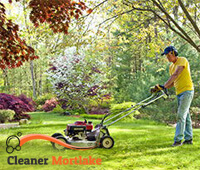 They can create and implement a brand new garden design, seed new flowers, take care of the existing ones. Most gardens suffer from weeds which choke up the plants and prevent their development and growth. Our gardeners will not only eradicate them using safe for the environment preparations, but also make sure that the weeds don't appear any more in your garden. Use the professional help of our gardeners which is provided in Mortlake every day in the week. We use highly effective and non-toxic detergents to remove weeds and clean garden areas.
Our gardeners will shape and trim the bushes, trees and hedges in the garden, fertilise the soil if it is necessary and take care of the lawn. Our gardeners are at your disposal in Mortlake seven days in the week to do the corrections and innovations which the customer wants. Rely on them to revitalise your garden plants.